Check out Daily Kibble   http://www.dailykibble.com/  Today's Scoop features the Smucci Manger Bed and adorable P-Nut, rescued papillion and main Smucci model

June 29, 2009

Cat's (or Dog's) Cradle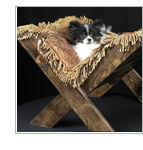 The Smucci™ Manger Bed mimics an antique cradle, reminiscent of the original nativity scene. Made from knotty and distressed pine, its dark earthy stain and authentic design captures a time…long, long ago.
In olden days, handfuls of soft hay were carefully arranged in a cradle, for the coziest and warmest nesting. Artfully replicated, the custom Smucci™ Hay Fabric pillow rests languidly within the Manger Bed, and surrounds your furbabe in a comforting hug.
The custom fabrics are 100% tri-polyester and completely washable. The bed pillow is made from Smucci Hay Fabric, chocolate brown faux mink, and 3 rows of fringe, then filled with fluffy faux down. It only gets better and softer with repeated washings.
For those who wouldn't have it any other way!

ddkdesigns.net