Style Network
features Smucci pet beds on
MyStyle.com. The Bed of Roses is their top pick of Smucci designs which is completely handmade with rose crown molding, custom colors, silver leaf detailing and comes with an incredibly soft, pink minky cushion!

go to:


www.mystyle.com

to view
Several months ago I sent an email to Thom at "Dress My Nest" after viewing an episode that featured a special design for a dog. I loved the fact that he included the family pet and encouraged the purchase of a very high end pet bed from a local pet boutique. He said, don't sacrifice beauty and the integrity of design just because you have a pet! Express your love of your pet by incorporating him as an important element in the overall design.
And so, in my email to Thom, I thanked him for taking the family dog shopping at LA Dogworks, and allowing the darling Jack Russell to pick his own very unique bed. One never knows if these kinds of emails are received, let alone read, and it can feel a bit lonely sending them off in the hope that there will be a connection.
Well, there was! Style Network looked at my designs and decided to post them on their website. Very Cool. Very Reaffirming!
thank you Style Network and
Thom and Danielle!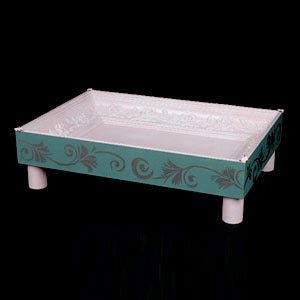 We all love to pamper our furry four-legged friends, and the best way to spoil your pet is with a bed fit for a king. Give your animal the royal treatment with one of Smucci's unique designs.
From now through Oct. 13, mystyle users can save 25 percent on the entire Smucci collection. Our personal favorite is the Bed of Roses (shown here), which has adorable rose crown molding and comes with a soft pale-pink cushion.
Head over to mystyle's Exclusive Discounts gallery to get the promo code.
As a complement to the Bed of Roses, The Ballerina Bed incorporates a pink tulle skirt into the design. this bed has been incredibly popular for smaller dogs like my two adorable papillions, Cookie and P-Nut!